Destined to remain between the great
Guide
(1965) and the immensely entertaining
Jewel Thief
(1966),
Teen Devian
(1965) is perhaps the moment where Hindi cinema became 'modern.'
Although the Dev Anand-Nanda-Kalpana-Simi Garewal starrer Teen Devian (1965) would rarely be counted amongst the all-time greats in Hindi cinema, its significance goes beyond being a highly memorable film. Usually overshadowed by not just the body of work that Dev Anand and his production house, Navketan, left behind, but also the films released in the same year such as Guide (1965), Waqt (1965), Jab Jab Phool Khile and Aarzoo (1965), Teen Devian is best remembered for its music (S.D. Burman-Majrooh) but for what it's worth this could well be the film that ushered in a sense of modernity into Hindi cinema. Prior to Teen Devian urban romance in Hindi cinema would be limited to playfulness on the part of the hero before the narrative slipped into story mode as seen in Vijay Anand's Tere Ghar Ke Saamne (1963) or most Nasir Husain films (Dil Deke Dekho (1959), Jab Pyar Kisise Se Hota Hai (1961). Unlike other films in the genre, Teen Devian stays on course when it comes to its basic theme that explores a young man's inability to decide between three different women in his life and the manner in which the protagonist played by Dev Anand celebrates his decision was a far cry from how Hindi film heroes were ideally viewed.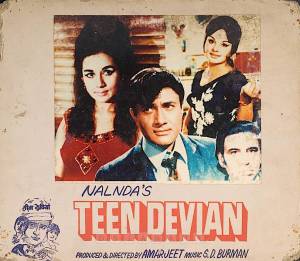 Based in Calcutta of the 1960s where parties and merry making was taken seriously Dev (Dev Anand), an upcoming poet, meets Nanda (Nanda), a fellow lodger at Mr. & Mrs. Pinto's home, and the two fall in love. Dev starts working in a music store while trying to get his work published and meets a film actress Kalpana (Kalpana), and circumstances compel him to leave his coat with her and she chances upon his dairy in one of the pockets. Dev's employer I.S. Johar (I.S. Johar), who also happens to be an admirer of his poetry, informs Dev that he had taken the liberty of sending the advance copies of his book of poems to a few influential people he knew and one of them Radharani 'Simi' (Simi Garewal), a socialite, is besotted by his poems. A few days Kalapana meets Dev again and presents him with a new coat and whisks him off to an outdoor shoot. He meets Simi at a party and like Kalpana, she, too, has fallen in love with Dev and while he loves Nanda he can't help but feel attracted to certain qualities of both Simi and Kalpana. All three of them fawn over him, but he just can't seem to make up his mind. Soon the three make it clear that they can't live without him and a still undecided Dev asks for a few days to make up his mind.
At a time when Hindi cinema could only imagine its leading men as the idealist upright good man,
Teen Devian
chose to see him as a real person and not some cardboard cutout. Today, the playfulness that Dev Anand infused into the character would be interpreted as naughty and perhaps branded a playboy and while
Teen Devian
's narrative makes no bones about the hero being confused about whom to pick it, is far from being raunchy or distasteful. It's hard to imagine that someone could think of such execution even in this day and age, but
Teen Devian
's hero is neither a skirt-chaser or wary of commitment. Instead, Dev wants to listen to his heart, which incidentally is making him go in circles before coming up with a decision. It's not just this clarity that makes
Teen Devian
ahead of its times but the fact that it never denigrates the women in the film is what makes it truly modern. In a reexamination of the
Teen Devian
Avijit Ghosh in his book
40 Retakes: Bollywood Classics You May Have Missed
notes that even though the movie panders to the male ego with three attractive women constantly throwing themselves at Dev, who keeps stepping aside, it's still a very gender friendly film. Like the hero who seems to be inspired by Krishna as opposed to the standard Ram, the women in the film are also real - they want him but if he doesn't make up his mind they would move on with life.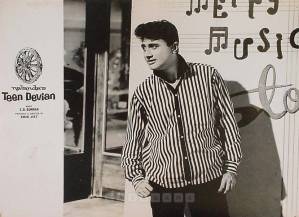 The film's credits mention Amar Jeet as the director but like
Hum Dono
(1962), the film that 'officially' had Amar Jeet as the director, but Vijay Anand directed most of the film, it was Dev Anand who called the shots on
Teen Devian
. The evergreen actor once told journalist Sidharth Bhatia that he directed the film in order to get 'the hang of direction' but wasn't sure of the product and hence gave Amar Jeet, his publicist at Navketan, the credit. Bhatia mentions this in his book,
Cinema Modern: The Navketan Story
, and notes how elements of a 'quasi-Navketan' film such as S.D. Burman's breezy tunes -
Aise to na dekho
(Rafi),
Arre yaar meri
(Asha Bhonsle, Kishore Kumar),
Kahin bekhayal ho kar (
Md. Rafi),
Khwaab ho tum ya koi haqeeqat
(Kishore Kumar) and
Likha hai teri ankhon mein
(Lata Mangeshkar, Kishore Kumar) and a fluid modernism of the story are all present.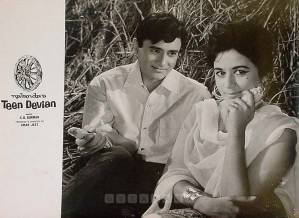 Readily recalled for its music and its urban suaveness would
Teen Devian
be more appreciated had it been shot in colour?
Teen Devian
was bundled between Dev Anand's own timeless classic
Guide
and the über chic
Jewel Thief
(1967) and the script's breeziness might have connected better with the audiences had it been in colour that was almost the norm at the time. Yet, the film's agelessness comes from the freshness of the screenplay and execution that permeate as brilliantly today as they did back then.


Gautam Chintamani is the author of the best-selling Dark Star: The Loneliness of Being Rajesh Khanna (2014) and Qayamat Se Qayamat Tak – The Film That Revived Hindi Cinema (2016) | Tweet him – http://www.twitter.com/gchintamani


All images –
Osianama
Cinema Obscura
–
A weekly space that celebrates films obscured between the unforgettable and the long forgotten.
Disclaimer: The opinions, beliefs and views expressed by the various authors and forum participants on this website are personal and do not reflect the opinions, beliefs and views of ABP News Network Pvt Ltd.