Much like life, perhaps the most wonderful fairy tale in itself, cinema inspired by it can also be boring at times. One of the genres that fell prey to this was the seemingly simplistic middle-cinema of Basu Chatterjee and Hrishikesh Mukherjee. A well-received category of films, middle-cinema was made to look very straight and easy but it was, in fact, one of the toughest acts to execute. It's ironical that while Hrishi da's films that feature top stars like Dharmendra, Amitabh Bachchan and Rajesh Khanna (
Satyakam
,
Chupke Chupke
,
Anand
,
Namak Haraam
,
Mili
) are considered amongst his best, some of the weakest films in Basu Chatterjee's body of work remain the ones that feature the same stars-
Manzil
(Bachchan),
Chakravyuha
(Rajesh Khanna) and
Dillagi
(Dharmendra). Nestled in between
Swami
(1977) and
Baton Baton Mein
(1979),
Dillagi
(1978) is one of the least known Basu Chatterjee films in a decade where he was in superlative form and one that warrants a revisit.
Dillagi
is an unlikely love story between a freshly appointed Sanskrit professor Swarnkamal (Dharmendra) and the college's Chemistry professor Phoolrenu (Hema Malini), a strict disciplinarian. Swarnkamal is a free spirited man in love with the idea of celebrating some of literature's greatest works such as Tulsidas' Abhigyan Shakuntalam with every breath he draws while Phoolrenu doesn't care for anything except chemistry. Swarnkamal's presence in the all-girls college wreaks havoc where he inspires his students to explore things that come naturally to their age such as love. Phoolrenu can't stand Swarnkamal or what he represents and being the warden of girls' hostel takes umbrage at Swarnkamal's extra classes in the students' rooms. Swarnkamal tries everything to impress Phoolrenu and even asks her to participate in his play based on Abhigyan Shakuntalam but she hates him more with each passing moment. The girls start teasing her; they call her carbon dioxide while Swarnkamal's the universal
jijaji
and like him but Phoolrenu finds both him and his books utterly distasteful.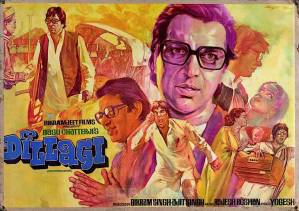 Things change when Swarnkamal visits Phholrenu at her home during holidays. The idea of meeting him beyond the confines of the college brings about a subtle change in Phoolrenu and she begins reading Abhigyan Shakuntalam. Slowly she starts getting attracted to Swarnkamal and a chance meeting by the river transforms their relationship. Phoolrenu's brother, Ramesh (Asrani, in a glistening cameo) urges her to marry, as he's desperate to settle down with his long-term girlfriend Usha (Kajri). He even places an advertisement in the matrimonial section for her. Once back on campus it becomes clear that Phoolrenu is now clearly as much in love with Swarnkamal as he with her. She tells him to respond to the classified that Ramesh has placed, as she'd like him to approach her through the 'proper' channel. Thinking that she is joking Swarnkamal doesn't make much of it but when another Sanskrit professor Gopal (Devan Varma) responds, Phoolrenu tells her brother to finalize the professor thinking that it's Swarnkamal. In the confusion, her marriage is fixed somewhere else and Swarnkamal has to race against time to save his love.
Based on Bengali novel 'Chemistry O Kahaani' by Bimal Kar,
Dillagi
is as straight as a line joining two points that lay next to each other. It's narrative is interesting, the cast stellar but even with some brilliantly executed set pieces (such as the one where Dharmendra wraps himself around in Hema Malini's sari as his clothes get wet in the rain) that will crack you up but the film somehow ends up being boring. Intriguingly enough Chatterjee sets up the premise with great alacrity aided by very sharp editing by V. N. Mayekar that make the first twenty minutes or thereabouts of the film flow seamlessly. This is where we meet the motley crew of characters such as the principal (Lalita Kumari), Charu (Preeti Ganguly), a student who believes that she is Kamal
babu
's Shakuntala, Geeta (Mithu Mukherjee), the English lecturer that Phoolrenu finds frivolous but there's precious little that happens after this. Watching the budding romance between the two is like watching a brook transform into a gushing river and intentions notwithstanding such an act can become tedious. What keeps you riveted are the performances that both Dharmendra and Hema Malini pack in. Unlike
Chupke Chukpe
Dharmendra's character here is far more complex with much less to explore– he has a single aim and unfortunately the execution, too, isn't layered.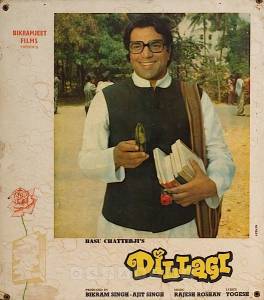 Could Basu Chatterjee have used some trope like a flashback or parallel cutting or simply shortened the length of the film to make it more palatable? One of the ways that the film wins you back, to a degree at least is the final act where it picks up the pace and tries to redeem itself. Chatterjee's seminal classic
Baton Baton Mein
has a similar final act but unlike
Dillagi
the former sets it up sooner, which made a huge difference. In any case,
Dillagi
wouldn't have been an easy film to make and Chatterjee's nuanced approach 'shows' the story rather than 'tell' it, which is a pity as this had what it took to make a classic comedy, witty and wry and all.
- All Images – Osianama (
http://osianama.com/film-titles/dillagi-1978?search=Dillagi%201978
)
Gautam Chintamani is a film historian and the author of the best-selling
Dark Star: The Loneliness of Being Rajesh Khanna
(2014) and
The Film That Revived Hindi Cinema
(2016)
Tweet him –
http://www.twitter.com/gchintamani
Cinema Obscura
–
A weekly space that celebrates films obscured between the unforgettable and the long forgotten.
Disclaimer: The opinions, beliefs and views expressed by the various authors and forum participants on this website are personal and do not reflect the opinions, beliefs and views of ABP News Network Pvt Ltd.